Artwork
Well, here you are...
I bet I have to put here at least one sample of my artwork :-)
Now, I have some pictures, taken from my art, er, hard disk, ie. already scanned. I will try and scan other pictures, if I find the time.
New! I added some drawings scanned for this site...
I have put in this page (already quite heavy!) reduced versions of my drawings. You can click on them to see a larger version (or more accurately, not reduced :-). Of course, these larger images are quite heavy (in KB...). I give you the weight of each illustration, you can judge if you will have enought patience to load it. Of course, if you have high speed Internet connexion, this is not a concern... When you are done with an enlarged image, click on the Back button of your browser to return here.
First there is a reduced picture of one of my drawing, done with brush and ink, plus tubular tip pen (Rotring like) for the girl's hair.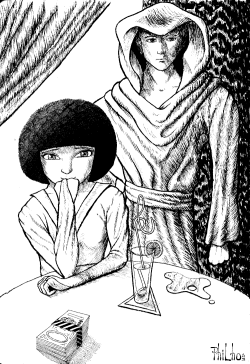 Larger version weights 195KB!
It is just an image I created for fun, trying to tell a story by itself, but not currently connected to any of my comics or role-playing characters / situations.
Here is another image, drawn from a photography. Not very creative, but still a good exercice, teaching a lot. I think I draw it without pencilling first, directly with brush, so it lacks a bit of framework.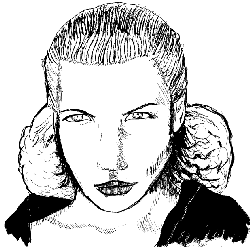 This one weights 58KB
Some years ago, I began to create an animated film, Cycle. I tried to give it a bit of the feel of Tenshi no Tamago, a Japanese anime with character design by Yoshitaka Amano, a great Japanese illustrator I revere... I am planning to make a page about him.
Well, my film is planned to be about 3 minutes long only, and due to lack of time, is currently stopped now. I hope I will find time again to complete it. There is less than 1 minute currently animated...
I am also looking forward a very cheap or free software to scan, trace and paint the frames. The professional ones are way out of my budget!
Anyway, I have do a number of designs for this film. I will eventually make a page to feature some of these work, but now, I will just put here two drawings, showing the main characters of my film.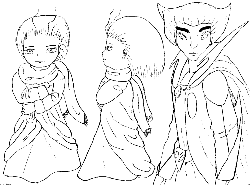 A 42KB image
This is actually the older version of the young man above.

And a 61KB image
You can see more drawings if you wish.
Go to main page. Voyez la version française de cette page.
Created: 1999/05/28
Updated: 1999/08/06 (Minor update (links): 2005/04/23)